Personal loans and credit cards have been mistaken to serve the same purpose over the years. Although they have the same source, which means you get them from financial institutions like CredPal and you are required to pay them back on a specific date. However, they do not serve the same purpose and have diverse differences.
Let's start from their definition, a credit card is a small plastic card that you get from financial institutions or lending organizations like CredPal. CredPal funds the credit card with money that you can use for your personal needs and small ticket purchases. Then on a specific date that CredPal has picked for you which is mostly your salary date, you pay back all you have spent on your credit card with very small interest. This means that you cannot spread your repayment.
A personal loan on the other hand provides you with a huge sum of money which you are required to repay in equal installments for a predetermined period. This means that you can spread your repayment within 1–12 months.
You can use a credit card to pay for your personal needs like home repairs, making online purchases, paying for little medical bills, renewing your cable TV subscription, and many more. However, you cannot purchase a car, a plot of land, pay for a kidney transplant, or buy a house with a credit card but you can achieve that with a personal loan. These are items that require a huge sum of money that you can get from financial institutions as a loan and you pay back in installments until you complete your repayment.
When to use a credit card
For smaller payment: A credit card is your pass to making small purchases that will not cost so much to pay back. For example, your favorite IG vendor is running a discount in the middle of the month where you have almost exhausted your salary. What do you do? You pick up your credit card and make the purchase. Have an important professional exam to take but you can't meet the need at that point? Your credit card is your pass to paying for the fee. All these are small-ticket purchases that you can afford to pay back at once when your salary comes in.
Can pay back in full at the end of the month: Unlike a loan, you cannot spread your repayment. If you can make the purchase and can afford to pay it back in full at the end of the month then you should get a credit card.
For Cashbacks and Discounts: You get rewards such as cash-backs and discounts when you use a CredPal credit card. You get from 200 Naira to as much as 10,000 Naira when you buy from any of our CredPal partner merchants. We have merchants like Slot, Carmart Nigeria, Pointek, TinaSolar Integrated services, Buy better, and many others. Register here to join the CredPal credit card community to enjoy these rewards.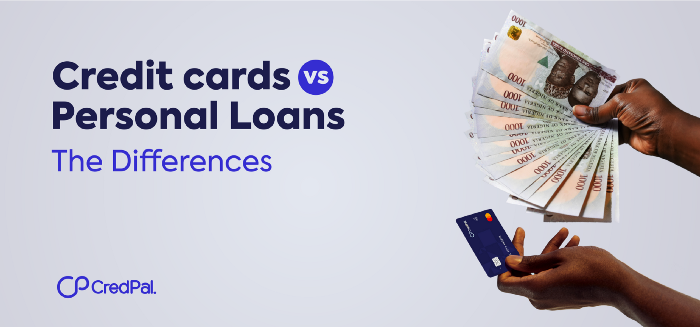 When to use a personal loan.
For large, one-off payment: This is when you should think of taking a loan. When a need comes up and requires a huge sum of money that your salary or credit card cannot afford, a personal loan is a perfect option for you. For example, getting a car to start a ride-hailing business is what a loan can get for you.
For monthly repayments: Some purchases are huge and you can't afford to pay them all at once. A personal loan gives you the opportunity to get the funds and that way, you can spread your repayment over some time. Unlike a credit card, failure to pay back all you have used at the end of the month affects your credit score.
Lower interest rates: CredPal loans are at the rate of 3.95% monthly. And for a CredPal credit card, the interest differs per plan. We have the 8%, 5%, and 2.5% monthly plans.
As stated above, credit card and loans have their distinct differences. However, there are some similarities.
Credit cards and personal loans are both issued by financial institutions like CredPal.
Getting a personal loan or credit card depends on your creditworthiness and finances. If you have a bad credit score, you most definitely would not get a loan or credit card. If your income cannot pay back the loan you desire, you won't get the loan and would be given a smaller credit limit.
You can use your credit card or loan to pay for anything you want. And when you do not pay back when you are expected to, it affects your credit score and that can be harmful to you when you need a loan or credit card from other financial organizations.
Whether a credit card or a loan, it is advisable to pay back what you have spent at the allocated time. Whether at the end of the month or in installments within 1–12 months. Failure to do this will affect your credit score and what that means is you become a big risk to financial or lending organizations.
The Goodnews is that CredPal offers both credit cards and loans. You can register to get yours today here.
Also Read: The Balcony Lagos hosts CredPal at restaurant Launch