Being competitive is a necessity in the business and corporate world. However, being competitive goes beyond assessing the strengths and weaknesses of current and potential competitors. It is also a continuous process of yearning to stay relevant in your business which in itself is a competitive advantage. The buy now, pay later payment services is a competitive advantage for business owners in the 21st century.
It is a competitive move to have an online presence to drive sales but a competitive advantage when you know the tools that can help you to stay relevant.
Technology has made 'change' a very constant element because there is always a new and better way to do things and as a business owner, it is important that you stay ahead and remain relevant. You can't handle your business the same way you did last year, talk more of a century before. The world is moving so move with it. In this article, we will highlight how you can stay relevant as a business owner in the 21st century amidst technological shifts.
How to stay relevant as a business owner in the 21st century
Technology is important but if you lack some basic elements and skills that can help you scale faster even with the right tools, you might not get the result you need. Get your book and pen as we dive in ?
1. Understand and communicate with your audience
As an entrepreneur, your audience is your most valued commodity and you have to communicate with them in a way that they will understand. Don't see it as a local market space where sellers insult buyers when they refuse to buy from them – If you can relate to this, then you must be familiar with Nigeria's local markets ?. If you are pushing towards staying relevant, then you should build a relationship with your customers. Converse with them like you're trying to win their heart.
Listen to them as well. If they tell you that a particular arm of your business is not great, don't insult them, listen to them, and make changes. If you don't, they won't return because there are many fishes to pick from in the river.
Ensure that you also resolve disputes quickly because every customer is an influencer of your product or services. If they enjoy their experience with your brand, they'll definitely share the gospel of your brand and if they are not, they will share their experience with others. Bad news spread faster so ensure that you give them an experience that would attract new customers and not chase customers away.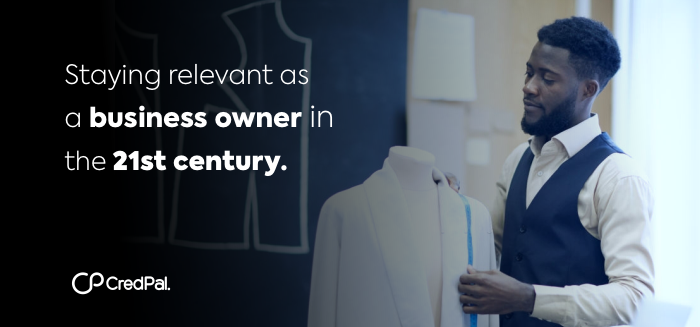 2. Explore digital channels
This is the 21st-century reality. If you aspire to stay relevant in your business in this century then you need to embrace and explore digital channels. Digital channels are electronic communication and promotional channels that help us to market and sell our products. They include video marketing, social media marketing, email marketing, and many more.
Alongside embracing digital channels, it is important to seek a digital payment platform for your customers. Your customers want to buy and you need to have different payment channels that suit their payment preferences.
Here are some of the payment options that customers want to use;
These payment options have been around for so long but the one that many businesses and customers are not aware of is the "buy now, pay later" payment option. As an entrepreneur, when you accept this payment option, it means that your customers can buy from you and pay later. The exciting part is that your customers are not paying you later, they are paying the financial organizations later. So, you increase sales while your customers meet their needs even when they don't have enough funds to.
Read more about the buy now, pay later payment option here. 
3. Collaborate with people outside your Industry
Collaboration is the 21st century way of leveraging influence. Many might want to question the relationship between a food vendor and a gadgets vendor but it is a relationship that is worth leveraging on. Each merchant has a different audience who have similar needs. A person who wants food would also need a phone to make calls and stay connected with family, friends, and business partners. So same customers or audience but different needs.
Ensure that the collaboration is beneficial to both parties.
4. Cultivate and build rich networks
The 21st-century wise man is the person that knows how to leverage relationships. Build networks that can help you scale high. This can be done by attending events and meeting new people that you can fly on their wings. A very practical example are these brands on Instagram – Funkycollectionz, Mudfashion, The5kfashionstore, Scentbtbelleza …. These are people that have learned how to leverage their relationship to help scale each other's business. This brings us back to the statement of, same audience, different needs.
Another opportunity to build relationships is by attending our monthly activations ?
5. Self Development
As a business owner, you must learn to continually develop yourself because there are certain tools that you have to learn in order to stay relevant. You must be able to learn, unlearn and relearn because if you don't, your competitors will take your place.
Staying relevant is accepting CredPal so that you can acquire more customers and they can buy and pay later while you can increase sales.