Food is one of the most vital basic needs of life that cannot be underrated or overhyped. Its benefit to the body helps us to value its essence more than any other basic need because food is essential to gain strength before chasing other needs. Now, we are talking about "eat now, pay later" what exactly does this entail.
As much as food is important to the body, no restaurant wants to feed for free or in credit. You've probably seen skits or videos where individuals have been embarrassed because they could not afford to pay for the meal they bought. These restaurant owners are also entrepreneurs who want to make profits too so we can't totally blame them for the actions they take during these moments.
The narrative is changing. Customers can now eat and pay later. They are not paying in kind by doing the dishes in the restaurant or any domestic activities like it is usually done, they are eating and paying back in cash.
Eat Now Pay Later Innovation
The buy now, pay later payment method has moved fully to restaurants to allow customers to manage their cash flow and still enjoy themselves. Here at CredPal, we have partnered with restaurants that are open to the ENPL payment method. So if you need to eat and your account isn't capable, you can go to any of these restaurants to eat and pay with CredPal. CredPal pays the restaurants immediately while you pay CredPal later.
List of restaurants that accept eat now, pay later in Lagos State
1. Orile Restaurants and Bar
Address: 2, Ichie Chris street, Chris Madueke, Lekki Phase 1, Lekki Phase 1, Lagos.
IG handle: @orilerestaurantandbar
2. 12 Baskets
Address: Plot 45, Chief Collins Uchidiuno Street, Lekki Lagos.
IG handle: @12basketsfoodsltd
3. Koffee Hut
Address: Plot 24, Block 113, Adebisi Ogunniyi Crescent, off Freedom Way, Lekki, Lagos.
IG handle: @koffeehut
4. My Konos on the Roof
Address: 6a, Ogunike Crescent, Lekki, Lagos
IG handle: @mykonosontheroof
5. Hard Rock Cafe
Address: Landmark Village, Water Corporation Road, Oniru VI, Lagos.
IG handle: @hrclagos
6. Burger Place
Address: 301, Herbert Mcauley Way, Before Spencer Bustop, Yaba, Lagos.
IG handle @theburgerplace.yaba
7. Bukka Hut
Address: 271, Herbert Macauley Way, Alagomeji- Yaba, Lagos.
IG handle: @bukkahut
8. The Balcony Lagos
Address: 70b, Kusenla Road, Ikate, Lagos
IG handle: @thebalcony.lagos
9. Eden Life Concierge Limited
Address: Block D3 Flat 5, Jacob Mews Estate, Adebisi Street, Yaba, Lagos.
IG handle: @ouredenlife
10. The Metaphor Lagos
Address: 78a Younis Bashorun Street, Victoria Island, Lagos
IG handle: @themetaphorlagos
11. Chef Nahnah
Address: 17, Amodu Close, Micom, Egbeda, Lagos.
IG handle: @chef_nahnah
12. W Bar Lounge
Address: 5 Cowries Terminal, LASWA Yard, Falomo Ikoyi, 110233, Lagos.
IG handle: @wbarlounge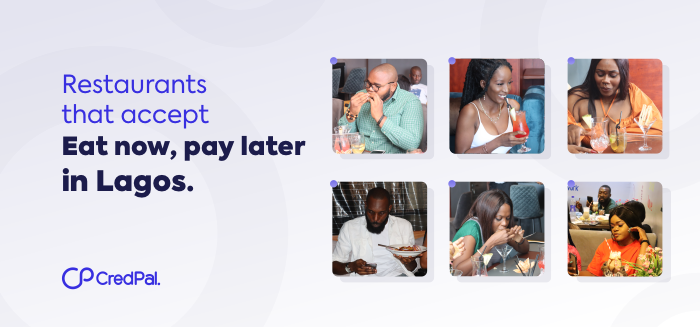 These restaurants are all listed within the CredPal app. You can either walk into their store to eat and pay with your CredPal account or order and pay within your CredPal app. You don't have to starve your cravings because you don't have enough to satisfy your stomach. Feed yourself, order for your loved ones, and enjoy the benefits of having a flexible mode of payment that can allow you to pay back at once or spread your payment within 2 – 6 months.
Feedback from Partnered Restaurants
The CEO & owner of Orile Restaurant & Bar, Bimpe Fashogbon, spoke about the value of accepting the eat now, pay later feature on CredPal, "Orile Restaurant and Bar partnering with CredPal is of great value to us and our customers. Our tagline ensures that all our customers that come here leave happily. Now, what does CredPal do? CredPal ensures that whether or not you have money, you can have access to good food from Orile and pay later."
Tochukwu Chukwuka, the CEO of Koffee Hut also mentioned that "CredPal creates an opportunity for you not to overstretch your budget or touch some of the funds that is allocated for something just to meet your immediate gratifications. So with platforms like CredPal, you can eat now and pay later."
If you are not on board yet, you can download the CredPal app to join the category of people who are satisfying their cravings with CredPal.