The digital payments industry is one of the major drives to business success in the consumer market today. Traditionally, the consumer market was driven by cash flow but the narrative is changing. According to the  Journal of Education & Practice, 2015, the Nigerian payment system has been predominantly cash-based for both positive and negative reasons, positive because of its instant convertibility to other forms of value without the intermediation of any financial institution and negative because of its anonymity in unethical electronic payment.
We saw an information gap in the digital payment space and we were urged to educate both business owners and customers about how they can tap into the solutions and benefits that digital payment offers. The webinar took place on Friday, the 22nd of October, 2021.
To ensure that we extensively unlock the different parts and areas of this topic, we brought on board panelists who are experts in this field. We had;
Our Speakers
Fehintolu Olaogun – CEO & Co-founder, CredPal.

Omolara Awoyemi – Founding Executive & COO, Bumpa. 

Amarachi Nwoke – Technical product owner, Interswitch. 

Folayemi Agusto – CEO & Co-founder, tix.africa.

Edidiong Uwemakpan – Head of marketing, Team Apt.

Olorunfemi Jegede – COO & Co-founder, CredPal.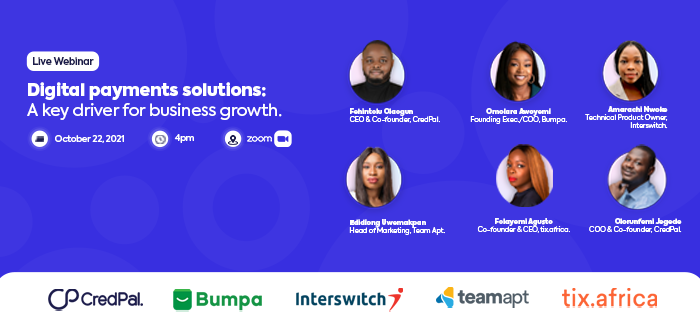 The conversation started with the CEO of CredPal, Fehintolu who gave insights into how digital payments can assist businesses to tackle issues like access to business credit, infrastructure deficit, and customer drop-offs.
He mentioned that one of the things digital payment helps to achieve is that it allows merchants to seamlessly collect payment from their customers." For us at CredPal, we offer credit to their customers to buy and spread their payment. This also helps the merchants to increase sales". He discussed further by saying that merchants no longer have the excuse of lack of infrastructure because there are a lot of players in the field today who offer a wide variety of solutions like Bumpa to make all of these easy for you.
Supporting the motion, Omolara Awoyemi, the founding executive & COO at Bumpa said, adding digital payment as one of the core infrastructures of your business,  means that you are empowering yourself to capture the shift. The shift is mobile penetration – the more engagement the people have with social and commerce apps that facilitate commerce, the more their willingness to pay digitally for goods and services.
The moderator, Somtochukwu Nsofor further asked her if she thinks there are more than enough digital payments solutions for businesses in Africa despite the ongoing conversation about the digital payments space being saturated?
Omolara went ahead to give an insightful response backed with statistics that she believes the future of Fintech in Africa will extend beyond digital payment into FinTech subsectors like InsuranceTech, AgriTech, Data analysis, credit score, buy now pay later like what we do at CredPal, and lots more.
She discussed further by listing other benefits of digital payments which are;
Business transparency and  better money management
Ability to forecast for your business
Riding on this discussion, the technical product owner at Interswitch, Amarachi Nwoke expressed her concerns about how SMEs and businesses are not willing to tap into the solutions that we have currently because there are lots of merchants that are still processing payment manually irrespective of the opportunities that abound and what they can gain from it.
To push the conversation forward, Amarachi explained why the digital payments space is important and the solutions that can help tackle the challenges SMEs face with processing payments and managing their businesses.
She explained that one of the things SMEs can do for their businesses growth is to key into digital payment acceptance because it helps businesses to create a competitive field for their product. It helps businesses cut logistic costs and have a seamless cash flow. "The most important thing about how digital payment can tackle issues with SMEs is access to finance and credit history".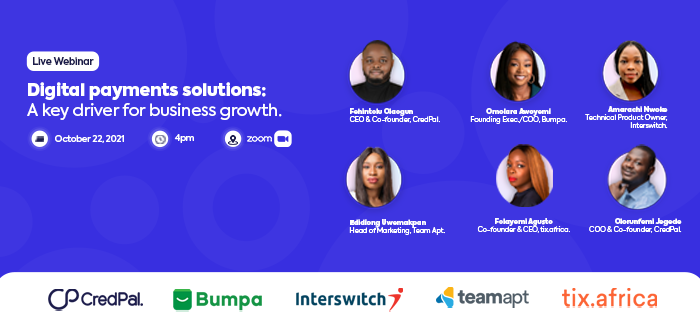 Our 4th panelist, Folayemi Agusto, CEO & Co-founder at tix.africa added to the conversation by highlighting that merchants have to keep pushing before consumers can buy into any digital payment method. The more merchants accept a payment method, the more value it has to a consumer.
The webinar went very practical towards the end of the conversation when Edidiong Uwemakpan, Head of marketing, Team Apt dived into how FinTech companies can help in the adoption of digital payment. She explained that fees are one of the reasons why merchants are not eager to accept digital payment is because some companies are collecting outrageous fees from the money that these merchants do not have. " We need to provide services that are not too far from the habits that already exist in that space. We need to provide financial literacy to the merchants and consumers to understand more about digital payment."
To close her session, she highlighted 3 major things that financial companies can do to make digital payment more attractive for businesses to adopt.
Reducing the fees or cost – FinTech shouldn't take more money from the money that these merchants do not even have.
Entry process – Not really our fault but regulations. A lot of businesses cannot provide the compliance materials to get them on board. Get the easier ways to get these merchants onboard without lots of papers. Make the sign-up process as easy as possible.
Accessibility – Give people a lot more options when they use digital payment options. Ways that are not far from how we behave
Our COO and Co-founder, Olorunfemi Jegede shed more light on CredPal business credit. He mentioned that the first step to access that is to become a CredPal merchant by registering on retail.credpal.com and accepting CredPal as a means of payment for your business.
The webinar was closed with questions from the audience and answers from our panels.
You can catch up on the entire webinar here.
Panelist Company Bio
Omolara Awoyemi, Bumpa
Omolara Awoyemi, the Founding Executive/COO of Bumpa. Bumpa is a leading intuitive digital commerce infrastructure for sellers of all sizes in Africa. You can set up a free website, accept payment online.
Amarachi Nwoke, Interswitch
Amarachi Nwoke is a Technical Product Owner at Interswitch. Interswitch is an Africa-oriented technology-driven company focused on the payments ecosystem that helps commerce evolve and businesses grow.
Folayemi Agusto, tix.africa
Folayemi Agusto is the co-founder and CEO of tix.africa. tix.africa is a self-service ticketing platform for event creators to create, share and collect payments for live or virtual events.
Edidiong Uwemakpan, Team Apt
Edidiong Uwemakpan is the Head of Marketing at TeamApt. A financial services provider that champions infrastructures such as Monnify which empowers businesses in all sectors to accept payments from customers and offers solutions for businesses to manage their finances.