Let us tell you a story about how you can get credit or a loan without being denied. Fasten your seat belt and get your popcorn!
Meet John, a sound engineer who wanted to get credit or loan but did not know how to make it happen. John got a big deal with a company that needs sound equipment for an event. The company is willing to pay 25% of his fee and balance him 75% when he begins to set up for the event. John is happy that he got such a deal but unhappy because the 25% that was received cannot cover the total expenses to rent the equipment needed for the event.
Studio equipments are very expensive and John needs 500k to rent them. He tried to reach out to his friends but none could help. He thought to take a loan with the assurance that the company is going to pay him his balance on the day of the event. John has one week to the event and he has never taken a loan or a credit before and now he is filled with HOW he can get the loan.
Now, let's talk about How and When because there might be a John out there who needs this information.
Credit cards and loans are lifesavers when situations call for them as portrayed in the case of John. A lot of people know the concept of credit or loans but they do not know how to go about getting one.
Here are 5 questions you should ask yourself before getting a loan or credit
1. How much do I need?
The first question you need to ask yourself is how much you need. You must have done the necessary calculations so that you do not later regret that the loan you requested was not enough. At CredPal we give out loans from 50,000 Naira up to 5 Million Naira.
2. How long do I have to pay it back?
You have to know how long it is going to take to pay back the loan. For some financial institutions, it takes 1–12 months to spread repayment but for CredPal, you are required to spread repayment within 1 to 12 months for loans, and for credit cards, you pay back all you have spent on your salary date. You cannot spread the repayment.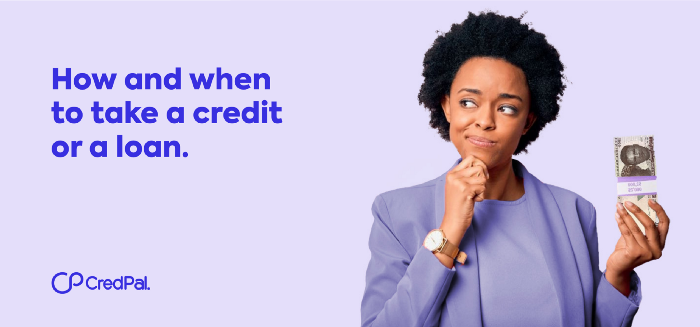 3. How much will I pay in interest?
You also have to find out about the interest rate of the financial organization you are about to commit to. Interest rates vary for different financial institutions and for CredPal, our loan interest rate is 3.95% to 7% monthly. For example, if John decides to take a loan of the 500 thousand Naira needed from CredPal, he will be paying a 3.95% interest rate on his monthly payment for the period of 9 months.
4. Do I have a good credit score?
This is a factor that determines if your loan will be guaranteed or not. A credit score is a number that depicts a customer's creditworthiness. You do not have to wait to meet your financial organization before you check your credit score.
5. How soon do I need the funds?
Answering this question will help you find out the urgency of the loan and the financial organization to get it from. If John takes a loan with CredPal. He would be able to get the equipment he needs before the day of the event.
Just like John, taking loans or credit comes when there is an urgent need to meet, and the need cannot be met if you have to save for it. John would probably have to wait for months if he has to save to get the equipment he needs and that could lead to forfeiting the job.
Here are some cases that would require you to get a loan.
1. You do not qualify for a credit card
Some organizations like CredPal only give out credit cards to salary earners so if you are self-employed and you do not qualify for a credit card, you can get a loan.
2. Your credit limit cannot fix your need
CredPal gives you Credit limits that suit your earning capacity. This means that you are given a credit limit that will not stress you to pay back when your salary comes. A loan is advised if you need to make a purchase that exceeds your credit limit.
3. A loan is your least expensive borrowing option
You should get a loan after you have weighed all your options and getting a loan is the least expensive option on your list.
Loans are forms of installment credit. If you are a John and you need a loan for whatever reason, CredPal is here to help you get both your loan and credit card.