Traditionally, the regular way most people get loans was by going to queue at a bank, offering properties as collateral, or getting friends and family members to stand in as guarantors. These are tedious and stressful processes that many go through to get a loan or an emergency loan. This is done without an assurance that the loan will be approved.
Now, that long and tedious process has been shortened to a seamless online process with a credit card. You can now get easy access to loans when you have a credit card. In this article, we are going to highlight how you can get an emergency loan effortlessly when you have a CredPal credit card.
When you get approved for a credit card, you get a credit limit that you can use for small-ticket purchases and pay back all you have spent with an interest on your salary date. However, when you apply for a loan, you get a whole sum of money that is above your credit limit as long as you are eligible and have the ability to payback. You can also spread your loan repayment within 1–9 months with a certain interest that you will be required to pay back monthly.
How to get a CredPal loan
To apply for a loan, you must first be a CredPal credit cardholder.
If you are not, you can apply at www.credpal.com
You sign up and provide all the necessary information and documents.
CredPal offers loans from 50,000 Naira to 5,000,000 million Naira so once your credit card is approved, you can proceed to request a loan of your required amount.
Once your loan request is approved, you will get an offer letter that entails the information and duration of the loan, repayment days, monthly repayment amount, interest rate, and many more.
You will be required to accept this offer letter so we can be sure that the loan is from you and not someone else.
After you have accepted the offer letter, your loan will be disbursed to you.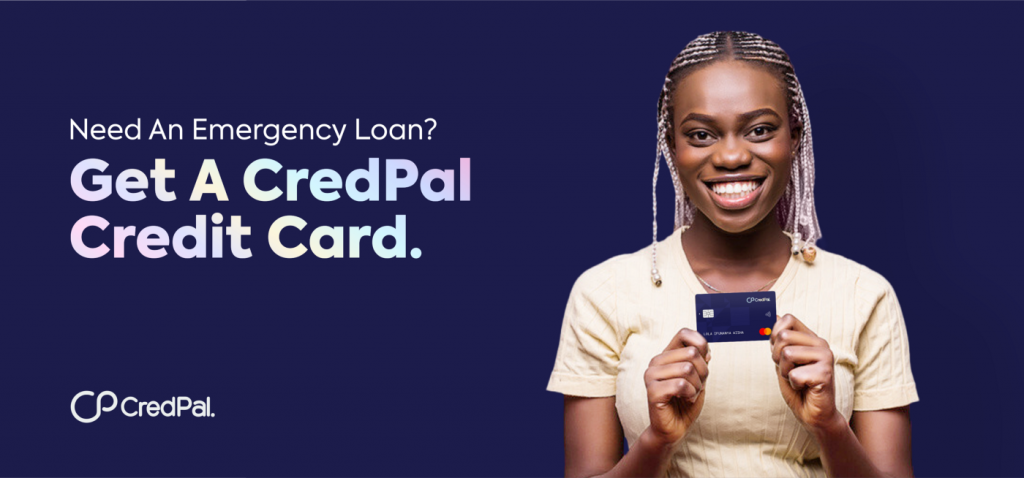 Benefits of CredPal loans
Getting a loan with credit cards is seamless and timely and it also comes with some amazing benefits that are discussed below.
1. Suitable for Emergency needs
CredPal loans are built for urgent and emergency needs. You do not have to wait for days before you get approval or queue at the bank to get approved. So long as you have a CredPal credit card, you are eligible for a loan.
2. Easy to secure
You can easily secure a CredPal loan because you do not need collateral or a guarantor that might be too scared to stand in for you. This is because he/she is careful of being harassed for a loan he didn't apply for. All these are not necessary with CredPal, it is safe and you can access it on your smartphone.
3. Requires no collateral
You don't have to stand in with any property like your house, car, land, company, or whatever property you might have. However, CredPal will not approve your loan if you do not have the capacity to pay it back.
Eligibility requirement for CredPal loan
Although you do not need collateral to get a CredPal loan, you need to be eligible to be approved. Here are some criteria that CredPal would consider before you get a loan.
A salary earner with at least 50,000 Naira monthly or an entrepreneur with a 6 months average turnover of over 300,000 Naira
Must be a resident of Nigeria
Must be between 21–55 years of age.
Good credit history
Taking a CredPal loan can be tempting especially when you do not have to go through a tedious process to get your loan approved. However, it is advisable to only take them when you have emergency needs, days you cannot wait for the maturity of your savings, or the risk of borrowing from friends.
Do not wait till you need a loan to get a CredPal credit card, treat your needs with all urgency, get a CredPal credit card now and save yourself some future stress.
Also Read; Money mistakes you should avoid in Nigeria