What exactly is BNPL?
Buy Now Pay Later is a form of financing that allows customers to buy items and claim immediate ownership after paying a part of the money and spreading the rest over an agreed period. Buy Now Pay Later is excellent for those who need products and services now but don't have the money available; they can use this option to receive their items without paying immediately.
BNPL is becoming more popular with merchants worldwide as it allows e-commerce companies to offer installment products to consumers. It offers simple and transparent pricing models that make it easy for consumers to pay for products in installments. 
CredPal is a financial technology company that aims to increase the purchasing power of consumers and economic growth by offering better and easier access to consumer credit through buy now, pay later. 
According to Bain and Company, "BNPL makes life more affordable". It is becoming an important tool to make a range of goods and services more affordable. "Couldn't afford the whole price of a purchase up front" was the third most common reason to buy through BNPL, with 34% of users selecting it as one of their top three reasons. This share was even higher among people from the lower end of the economic spectrum, with 48% selecting that reason. In short, people are using BNPL to unlock purchasing power.
 Buy Now Pay Later In Nigeria
BNPL transactions have experienced a rapid increase world wide and Nigeria is no exception. What makes this innovative payment method attractive is that it comes as a cheaper alternative to taking up loans to acquire the same item. Also, even with a bad credit history, you can still have access to this payment option. 
Even though BNPL in Nigeria is becoming popular, there are still a few distinctions in the local industry in Nigeria relative to the global BNPL industry. In this article, we outlined how BNPL works in Nigeria and the benefits it presents to customers and merchants. It could be useful to business owners who might be interested in applying this payment method to their business.
How does BNPL work in Nigeria
Just like in other parts of the world, Buy now pay later in Nigeria is used to increase people's purchasing power and reduce their financial burden, these days a lot of these platforms are emerging in Nigeria.
Nigerians can now shop for certain products, mostly electronics, and spread payment across a specified period of time. 
In order to establish trust and ensure financial safety, some of these platforms in Nigeria require a valid identification card such as voters card, international passport, or driver's license, bank statements and so on, while others may only require you to sign up on their platform, and check out using their services.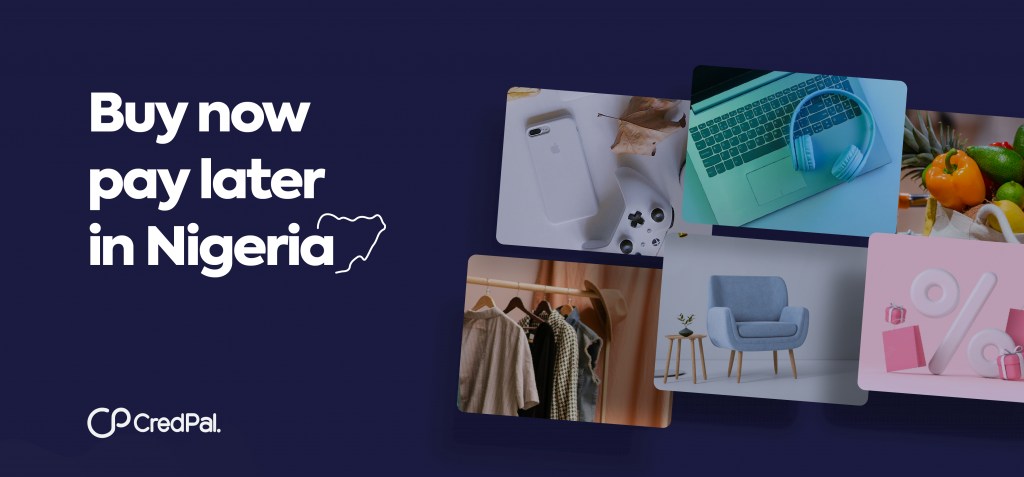 How to Buy now and pay later with CredPal
To buy now and pay later using CredPal, it only takes a few steps. Once you have completed the process, you can purchase the items you want and split the cost over a period of time. (up to 6 months).
You can either shop online or offline. To purchase online, you can walk into any of our partnered merchant stores and select any item you would like to purchase, let the merchant know that you want to pay using CredPal's buy now pay later, after which you can either scan the merchant's QR code or use the CredPal payment link that will be provided by the merchant.
You'll be required to pay 30% of the price of the product upfront while you'll split the payment of the remaining 70% in up to 6 months. Once you have been approved by CredPal the merchant will hand over the item purchased to you. That's all.
To purchase online, you'll need to sign up or log in to the CredPal app. On the dashboard, click on the "Shop" icon at the bottom of the screen. Select any of the displayed merchants on your screen or search for a merchant in the search bar. Pick the item you want and add it to your cart. Once that has been done, then you can proceed to checkout. On the merchant's checkout page, select "CredPal Buy Now Pay Later" as the payment method. Sign in to your CredPal account on the CredPal checkout page and make a 30% down payment, that's it you'll item delivered to you.
Benefits of BNPL to customers in Nigeria
Below are the benefits that come with using a BNPL service in Nigeria as a customer:
Convenient and flexible 
For consumers who might not be financially buoyant, BNPL offers a convenient and flexible payment option. From grocery shopping to gadgets , with BNPL you can make that purchase and split your payment without any hassle.
Affordability
While other forms of loans have higher interest rates and late fees, the BNPL options provides a more affordable payment option since they typically have limited fees and interest rates.
Benefits of BNPL to merchants
Below are the main benefits of BNPL to merchants:
Increased sales.
When a merchant offers BNPL it encourages customers to buy more products. When customers get the advantage of splitting payment to their convenience, they tend to shop for more than one product, regardless of the price.
Attracts new customers. 
Because of how convenient and seamless this process is, it attracts more customers. Most people like the idea of purchasing an item and splitting the costs over a period of time.
Also, when it comes to promotion, not only is the merchant advertising what they sell to the but the BNPL platform also helps to publicize it, thereby bringing in more customers. 
So, if you are one of the few who is yet to use any BNPL services, then you might want to start with us. From gadgets to electronics, furniture and even food, we've got you covered.
Don't second guess it, download the CredPal app today, get your shop on and split your payment.

DOWNLOAD CREDPAL ON APP STORE                           DOWNLOAD CREDPAL ON PLAYSTORE